RETAIL
AR and VR in Retail: Defining the Future of Shopping
Immersive technologies, such as augmented reality (AR) and virtual reality (VR), are disrupting the future of shopping. The rise of the metaverse trend has further deepened the gap between customers and brands. Innovative virtual stores are being developed allowing shoppers to interact with art, furniture, clothing and more. As shoppers' expectations increasingly change, digital experiences with 3D technologies have become paramount in organizations' strategies.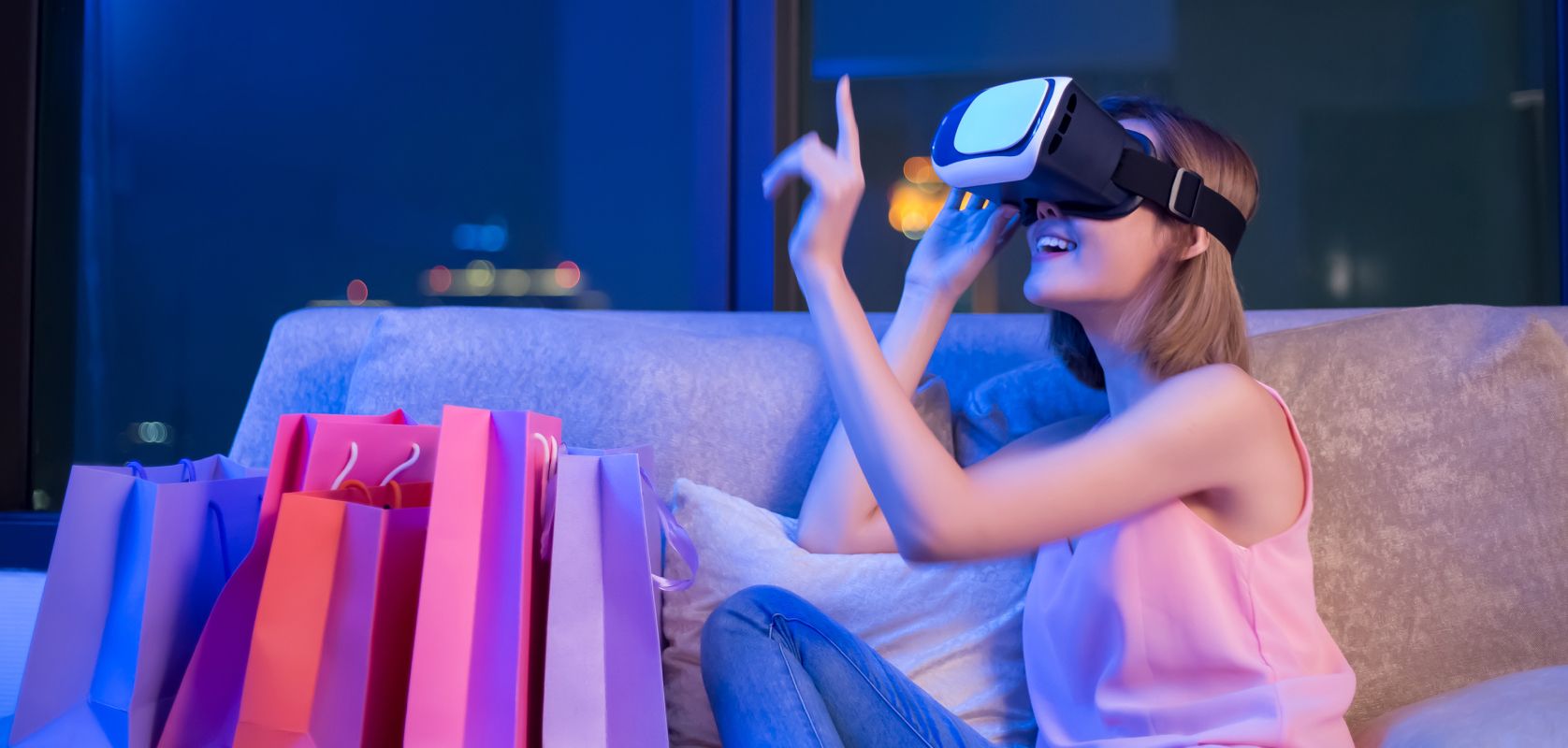 Immersive technologies extend reality or create new virtual realities by leveraging 360° spaces. Immersive technologies include virtual reality (VR) and augmented reality (AR). Virtual reality, for instance, immerses users within a 360° virtual world where the digital space is perceived and interacted with via VR headsets. Augmented reality (AR), on the other hand, extends the perceived reality by introducing digital objects within the user's real-world environment through everyday devices like smartphones and tablets.
Augmented reality is a type of immersive technology that introduces digital images or 3D objects within the real-world experienced by the user. Through digital devices like smartphones and tablets, users seamlessly blend the digital and real world. Examples of AR apps are Snapchat and Instagram filters.
Virtual reality is a type of immersive technology that surrounds the user within a virtual world. The virtual world is accessed via specific VR headsets, like the Oculus Quest 2 or the HTC Vive. This technology is extensively utilized in training scenarios, marketing & sales and more.
The metaverse is an example of combinatorial technology trend, where aspects of social media, online gaming, augmented reality (AR), virtual reality (VR), and ecommerce come together within what has been dubbed as Web 3.0. The metaverse creates online virtual environments where users can meet, interact, work, and play. From online stores to digital clothing, from education and learning to gaming, the metaverse is rapidly creating new and exciting business models for forward-looking businesses.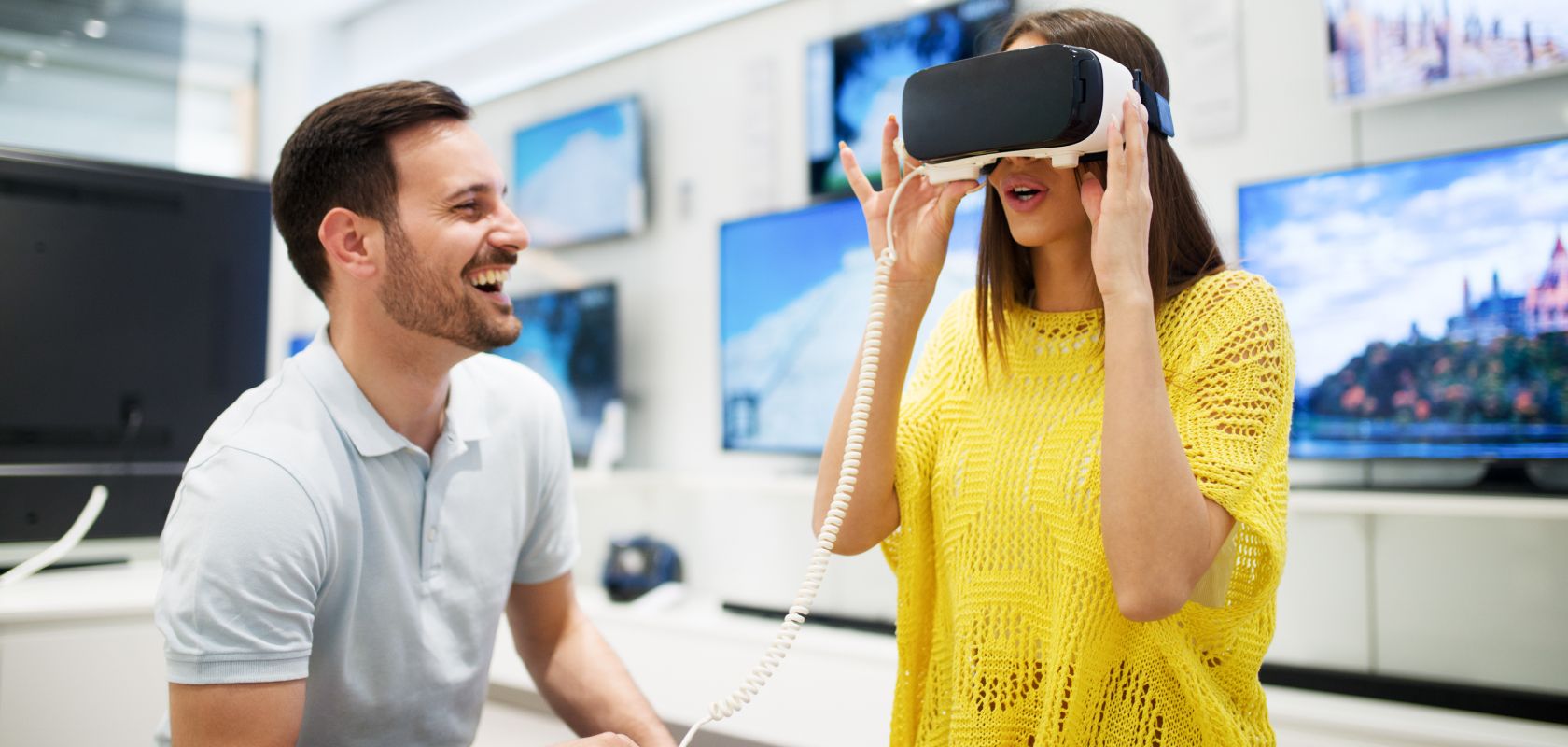 Applications of Immersive Technologies in the Retail Industry
Augmented reality (AR), virtual reality (VR) and the metaverse are fundamentally changing how brands interact with shoppers, increasing sales and improving customer experiences. These technologies are disrupting traditional business models, creating new and exciting opportunities.
3D In-Store Experience
Clever marketers are introducing 3D and VR digital touchpoints within the brick-and-mortar store, blending the online customer experience with the physical one. This paradigm shift is bringing to life effective omnichannel marketing strategies that build consistent brand experiences.
Product Information
With AR apps, customers can access more information about products and improve their overall shopping experience. For example, customers can easily access product information via powerful AR -powered apps, gathering insights on products overlayed on the product itself. This feature delivers a powerful extension to the buying experience, removing frictions and purchasing barriers.
Product Customization
Modern shoppers want products that are customized to their taste and needs. In this scenario, retailers must carefully plan news strategies around 3D product configurators, both online and in-store, that allow customers to interact, customize and visualize in AR products like never before.
Virtual Try-Ons
Another critical revolution brought on by immersive technologies is virtual-try-ons. Forward-looking retailers and brands have already commenced providing this exciting new feature to their customers. With virtual-try-ons, customers can easily try on clothes, shoes, and accessories through augmented reality, directly from the comfort of their homes.
Takeaway
Immersive technologies are disrupting how retailers engage with their customers, introducing new and exciting business models along the way. From online browsing and ecommerce to in-store, virtual reality, and augmented reality -powered applications have transformed how shoppers engage with products, towards an omnichannel marketing experience.
To remain relevant in today's market, retailers must carefully analyze the entirety of the customer experience, implementing VR and AR applications where they most provide value for their customers.